National Job Agencyis a premiere Warehouse & Logistics staffing agency that can provide you with a reliable and experienced workforce. We provide labour for temp, temp-to-hire, and permanent positions.
We are Warehouse & Logistics Staffing Advisors –Time, Service and Budget
As specialists for more than 10 years, we have met the highly labour-intensive staffing demands of Warehouse operators, carriers, and freight forwarders on-time and on-budget.
Companies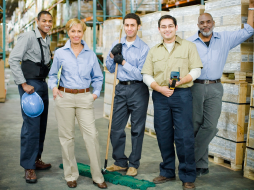 Whether you are looking for reliable, experienced Labourers

to maintain a contingent workforce, or a Warehouse

Supervisor with refrigeration experience, our recruiters are

experts in providing a skilled workforce to get the

job done right.
Our registrant database includes tens of thousands of qualified personnel allowing us to respond quickly to your changing needs so you can maintain your service levels, turn over inventory, and hit your KPI's while staying in firm control over labour costs. Registered Candidates undergo extensive screening and we stand behind every person we place. We focus on the people while you focus on moving inventory and managing your business.
Warehouse & Logistics Candidates
National Job Agency is firmly entrenched in warehouses, distribution centers and terminals all over Canada. We invest our time and resources back into the Warehousing and Logistics community to ensure we maximize employment opportunities for you. Once your resume or bio is submitted, our team helps organize and prepare your profile while getting to know you. Our clients appreciate our industry expertise and the thorough screening process we do to ensure a good fit. We may be bit tougher with our expectations, but we also stand behind every person we place.